Price

RM41.50

Brand
MAM
Availability
7
Shipping Fee

Colour

Quantity
Description
Highlight
Designed to soothe and calm newborns while promoting healthy oral development.
Designed to soothe and calm small babies while promoting healthy oral development
Ease and convenience: Supplied in a practical sterilizing and carry box for convenient and time-saving sterilizing in the microwave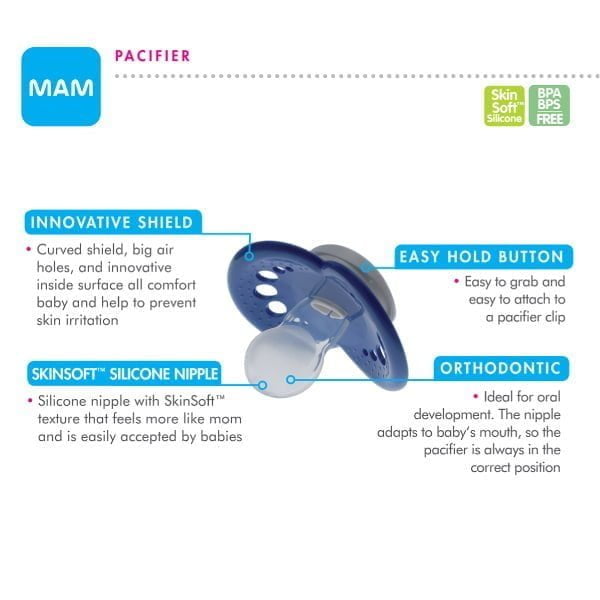 MAM Original Pacifier 6+ months
The perfect combination: MAM bottle and pacifier
The exclusive MAM SkinSoft™ Silicone is superior to standard silicone. Our ultra soft silicone has been developed to feel like skin, no other silicone feels softer.
Extensive research confirms: 94%* of babies happily accept the MAM SkinSoft™ Silicone.
MAM Pacifiers use the same SkinSoft™ Silicone material and are therefore the perfect combination for a happy and relaxed baby. Make sure you don't miss our pacifier offers.
* Market research 2009–2017, tested with 1,508 babies
Designed to soothe and calm newborns while promoting healthy oral development.
Designed to soothe and calm small babies while promoting healthy oral development
Ease and convenience: Supplied in a practical sterilizing and carry box for convenient and time-saving sterilizing in the microwave
Reviews (0)
view all
back
What's in the box
MAM Baby Pacifier Original 6+ months 2Pack