Haenim Smart Classic 4G+ UVC LED Electric Sterilizer White Gold 14days Preorder
Price

RM1,399.00

RM1,899.00

Brand
Haenim
Availability
7
Shipping Fee
Quantity
Description
Highlight
Fit 16 Baby Bottles - Large Capacity
24hrs Sterile Storage - Smart Function
High Efficiency - UV LED
Quick Dry - Turbo Mode
Tested at Capacity - 99.9% Sterilization
Always Hygienic - Clean Alert
Nylon Microfiber Filter for Clean Air - Air Filter
Temp and Time on Display - Easy Display
Haenim Smart Classic UVC LED Electric Sterilizer White Gold 14days Preorder + Free UVMed Hailey Pocket UVC LED Sterilizer
Remark: We will ship the free gift UVMed Hailey Pocket UVC LED Sterilizer worth RM309 for you once the payment completed and you will receive the Haenim Smart UVC LED Sterilizer ini 14days working days.

The only sterilizer in the world that lab tested and proven to be effective in killing 99.9% of Human Corona-virus. Plus, it is effective to eliminate Influenza Virus, Norovirus, and broad spectrum of bacterias.
Newborns are vulnerable to infections by viruses and bacterias. That's why it's important to sterilize all the baby items to protect baby from harmful germs and viruses.
9 UV LEDs for Complete Sterilization
Bigger capacity to fit 16 baby bottles
24-hrs Temp and Setting Sensors
No more odours, no more lamp changing
Only Haenim Provides Practicality & Flexibility
EasyClean Water Tray Removable for easy cleaning
Natural rubber and latex products are prohibited to sterilize using UV mode
More Versatile - Protect your lifestyle with safe and convenient sterilization method
The first UV Sterilizer that is tested and scientifically proven to be effective in killing 99.9% Human Coronaviru. Also, it is able to kill Influenza Virus, Norovirus and a broad spectrum of bacteria.
If you need more space between two racks, just switch them around for 3cm of additional space. Height-adjustable to your liking!
Enjoy our long-lasting, high-performance UV LEDs, with 1,200,000 minutes lifespan.
Auto drying, sterilization and ventilation every 3 hours. Auto sterilization after the door is open and shut.
Using 9 Haenim UVC-LED for better disinfection capabilities. Best sterilizing power – 275nm
Product Features:
AUTO Mode (DRY + STERILIZE) Transfer automatically between drying and sterilizing
3 cycles available (30mins/50mins/70mins)
TURBO Mode (DRY + STERILIZE) Extra strong drying function
3 cycles available (30mins/50mins/70mins)
DRY Mode Drying and ventilation functions
3 cycles available (30mins/50mins/70mins)
UV LED Mode (STERILIZE) Perform sterilization function
2 cycles available (10mins/20mins)
Clean Button The system calculates usage and when it's time to clean, the clean button alert shows up on display. To reset: After cleaning, press the clean button.
STORAGE Mode After initial cycle, 8-hour looping system kicks in! Every 1 hour, the system sterilizes and ventilates automatically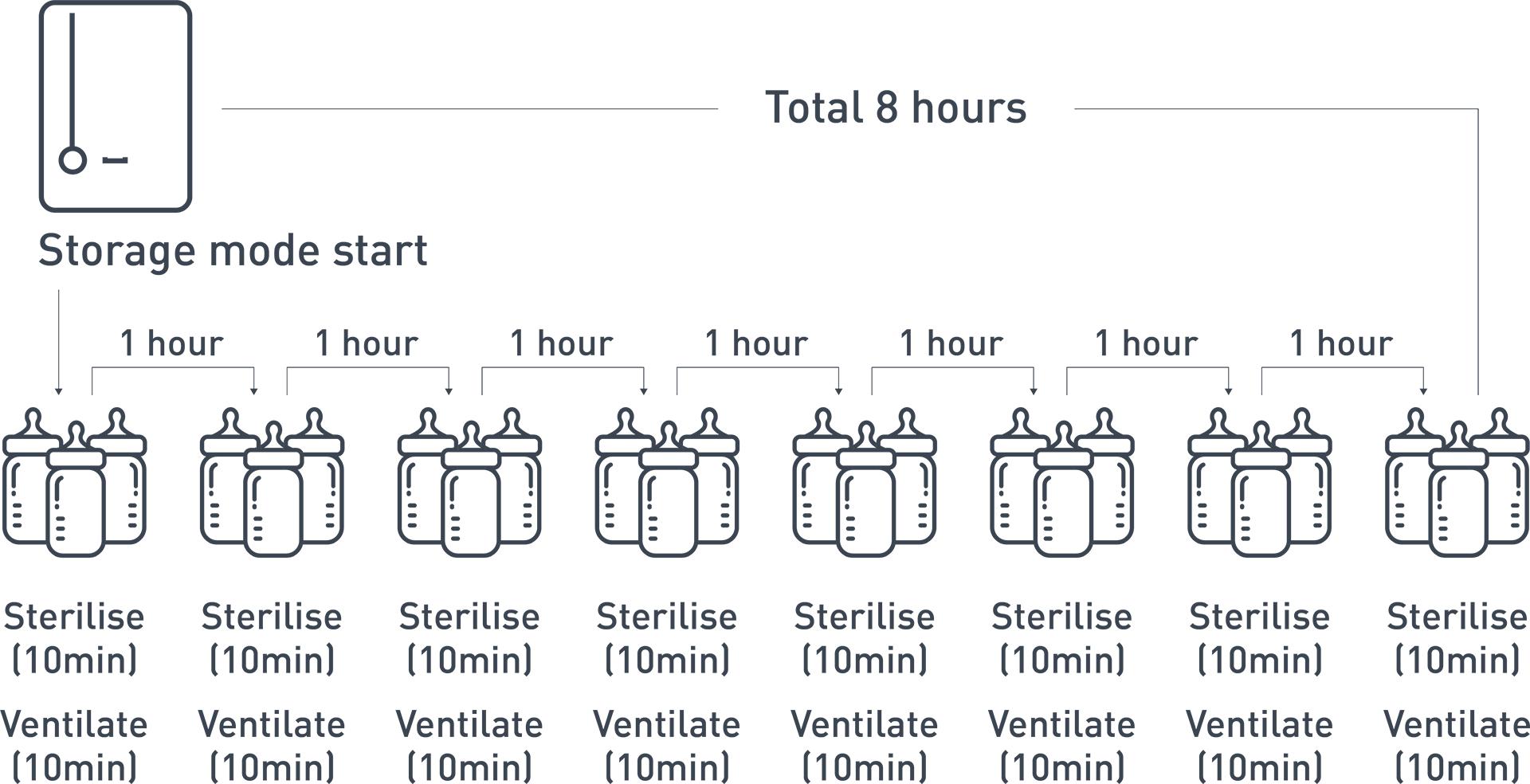 What's included
Haenim Smart Classic UVC LED Electric Sterilizer
Stainless steel rack (upper)
Stainless steel rack (lower)
Stainless steel water tray
Main Power Cord
Preorder Free Gift UVMed Hailey Pocket UVC LED Sterilizer
| | |
| --- | --- |
| External Size | 295(W) x 375(D) x 425(H)mm |
| Internal Size | 260(W) x 290(D) x 330(H)mm |
| Voltage / Frequency | AC200v / 60Hz |
| Consumption | (Max) 95W |
| Dry / Sterilizing | PTC Heater / UV LED |
| Product Weight | 5kg |
| Product Warranty by Haenim Malaysia | LED 5 Years | Machine 2 Years |
Reviews (0)
view all
back
What's in the box
Haenim Smart Classic UVC LED Electric Sterilizer
Stainless steel rack (upper)
Stainless steel rack (lower)
Stainless steel water tray
Main Power Cord
Preorder Free Gift UVMed Hailey Pocket UVC LED Sterilizer